Cabaïaofficiel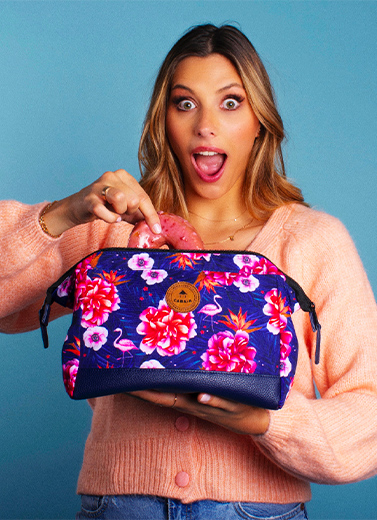 Our Mini and customizable backpacks with their interchangeable pockets are perfect for your small everyday travels and for those beautiful summer days.
Small but powerful, its volume of 12 liters can accommodate the necessary for your city trips (fleece Ipad pocket, bag opening ...). Available in several (f)summer colours to complete your look. Our Cabaïa Mini backpacks offer you great comfort thanks to their padded shoulder straps, they distribute the weight on your shoulders and facilitate your organization thanks to the practical compartments inside. Treat yourself thanks to our selection of cheap small backpacks!
Everyone needs a backpack, and as we know everything small is cute, but at Cabaïa our small mini backpack doesn't lose its qualities! We offer you this little bag with all the features of a big one: Fleece Ipad pocket, interchangeable front and side pockets and even elastic to hold your water bottle! Whether it's for going to school, going away for the weekend, travelling, going around the world, climbing a mountain top, going to work or even for your daily sports session! Cabaïa offers you a wide choice of backpacks in different sizes to meet all your desires and needs!
Our backpacks are suitable for all styles: streetwear, sportswear, trendy, hipster, classic...and they are customizable thanks to their interchangeable pockets. When you love your backpack, going to class (at school, college, high school or university) becomes a real pleasure! Discover without further delay all our models to buy the backpack guaranteed for life that suits you! For adults, the mini, medium or maxi backpacks are perfect for both men and women. To find out more, please consult our size guide. For children, opt for a mini bag, perfect for everyday use and to carry their small notebooks, it will make their travels comfortable and enjoyable! If you're looking for a small backpack, our mini bags are made for you! You are tall and always feel like your backpack looks small on you? Opt for our Maxi backpack, a bag for grown-ups! Still hesitating? Opt for our classic and original Medium bag ! All our backpacks are guaranteed for life and can be personalized thanks to their side pockets.



100% secure
Secure payment methods.
Free return
In a period of 14 days.
Customer support
Monday to Friday from 10am to 7pm.