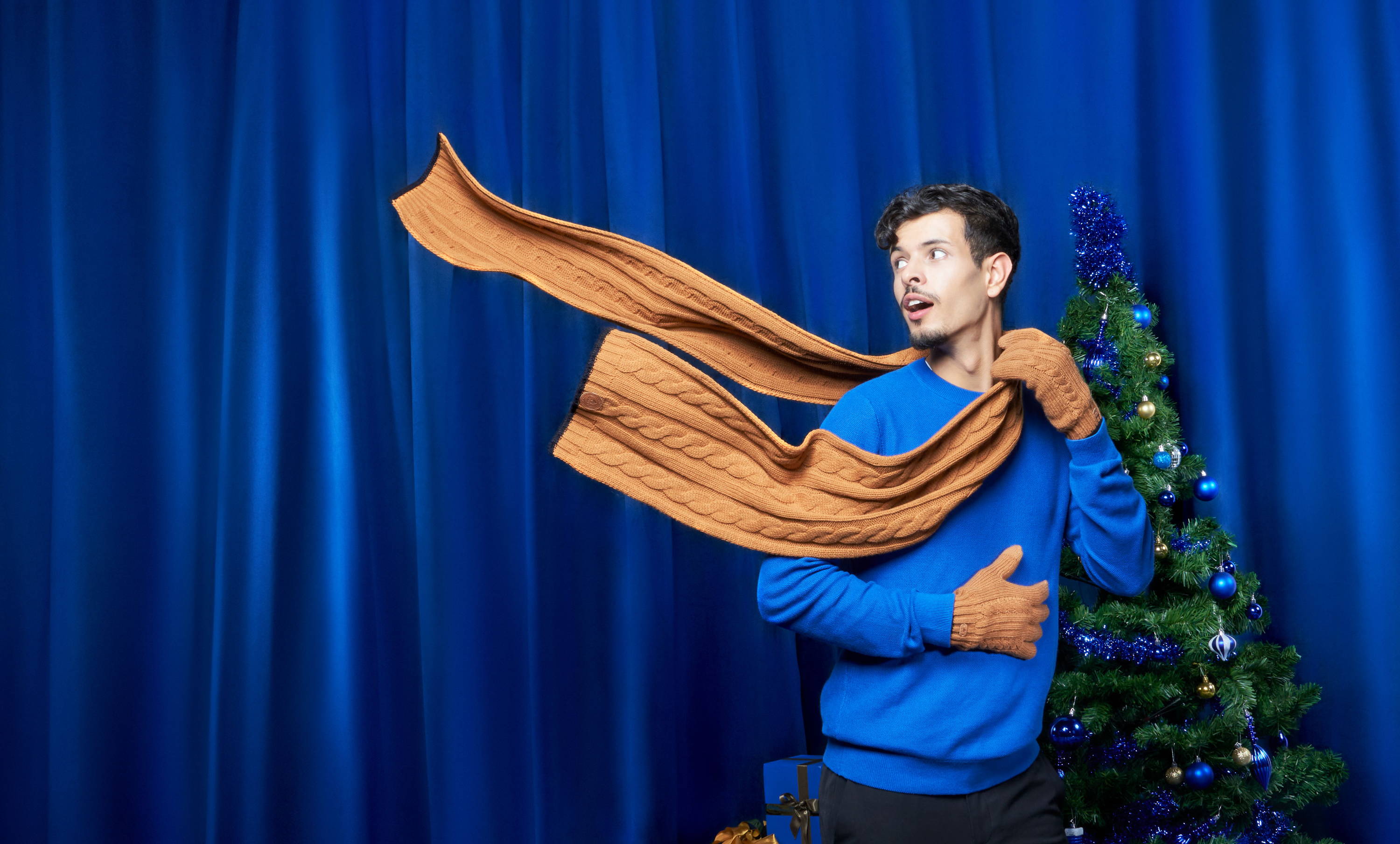 Our Christmas gift ideas for men: the guide
Oh, there's plenty of people to drink spiced tea under the plaid in front of Christmas films, but when it comes to finding a present for your father/brother/boyfriend, there's no-one left! We know that every year it's the same, we're completely at a loss when it comes to Christmas gift ideas for men. We hate to see you like this, and we're really into the Christmas spirit, so we've put together a great selection for you.
Christmas gift ideas for an adventurer
We're all surrounded by a globetrotter, someone who can't stay put, who wants to see the world and have crazy adventures. This year he's honouring you with his presence at Christmas, and you're looking for the perfect gift to give him? Here are three ideas that should delight him.
Under €30
Pack of three inseparable socks: Travelling the world wears out our socks! Our pack of three pairs of Cabaïa socks is the practical gift that always makes you happy. Our socks are soft, comfortable and GOTS certified (you'll have to explain to her that this has nothing to do with Game of Thrones). And thanks to the wooden button that ties them together, they're impossible to lose! Price: just
€25
The toiletry bag: A true adventurer always takes his toothbrush and moisturiser. It's his secret kit for keeping clean even in the heart of the jungle! Price: €29
Beanie without bobble : To brave the cold and hide your haircut after a night under the stars. Price: just €25
From €30 to €50
The interchangeable pompom hat: It's true that the adventurer isn't a cold person, but like everyone else, he likes to be warm in winter. Just the thing, you'll be able to make him happy with our hats and their 3 interchangeable pompoms, thanks to a powerful magnet system. Whether you're exploring snowy lands or bustling city streets, our hats will add a touch of 'amazing' to every expedition.
Price : €45
The bum bag: Much more than just an accessory ! Practical and stylish, it goes everywhere with you, keeping your essentials close at hand. Whether you're in the mountains, the city or on the road to the unknown, this fanny pack makes you a true modern adventurer.
Price : €39
€50 and more
The Cabaïa travel bag: This is obviously the adventurer's must-have. Gone are the big, unstylish 60-litre bags that have had their day, and now we're opening our arms to this new travel companion that's super high-quality (guaranteed for life!!!), durable, practical and comfortable. This ingenious vegan bag can be worn as a backpack, on the shoulder or in the hand. Its wide-angle opening makes it easy to find everything at a glance, and its capacity is ideal for a weekend away or a round-the-world trip. It even has a shoe compartment. If you're not sure which model to choose, go for a sure-fire winner that goes with everything: the navy blue 'Chicago' travel bag! It's sure to make some people jealous.
Price : €109
Christmas gift ideas for the committed ecologist
They're not the easiest people to spoil, because in the interests of the environment, they're not much into material gifts. But as always, there are exceptions, and we're convinced that a Cabaïa package to unwrap under the tree should make them very happy.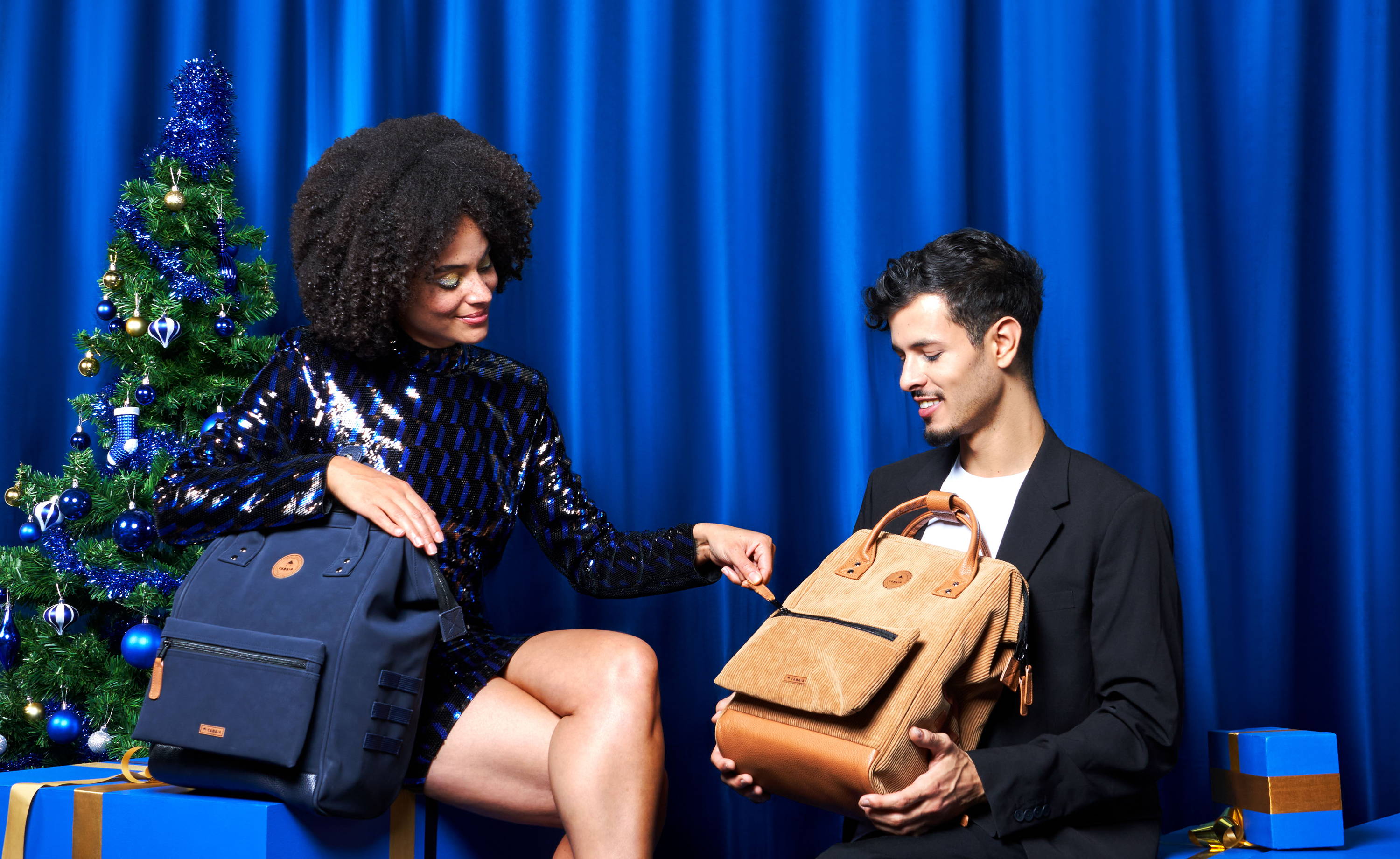 Under €50
The Cabaïa 1L water bottle: Of course, the eco-friendly man already has one, but he may not yet have the Cabaïa. What does it have that the others don't? Well, everything! Guaranteed plastic-free, with its bamboo stopper, it's also a 100% clean water bottle that can be completely cleaned. Unlike other water bottles, which are a pain to wash, ours can be unscrewed so that it can be scrubbed all the way to the bottom. It's also guaranteed not to leak. Try it and you'll love it!
Price: €40
€50 and more
The Adventurer Medium rucksack: Because, as he likes to tell you, "a purchase that lasts is a purchase you won't make again"! We recommend our Adventurer Medium backpack. With its hard-wearing nylon fabric and above all its lifetime guarantee, he'll love it. With a capacity of 23 litres, it can hold a notebook, a 13-inch PC, a good book and even 1 pair of jeans, 2 T-shirts and 2 pairs of pants if he wants to go away for the weekend. No frills, he'll love it! In terms of colours and prints, it's available in over 30 versions. If you're not sure, we've got a soft spot for the camel-coloured 'Lyon' model.
Price: €89.
Christmas gift ideas for the hard-working man
This type of man is generally well-equipped, so finding the right gift idea for him is no easy task! (Christmas makes us poets!). We're willing to bet that our super-hot selection will make him jump through hoops (sorry, we couldn't think of a better rhyme for "we").
Under €30
The card holder: He's a card hoarder, with company badges, credit cards, ID cards, sports club cards, loyalty cards... With the Cabaïa model, he'll be able to fit 10 cards without taking up any space. Our model is extra slim and has a drop-down opening as well as a number of clever arrangements. We've also thought of a secure magnetic closure. As an added bonus, it's made entirely from recycled bottles.
Price: €29.
From €30 to €50
Laptop Case : He'll love a new cover for his work tool. Fun print or classic design, the choice is yours. Available in two sizes, 13" or 15", it comes with an interchangeable sleeve. Thanks to its practical flat format, it can be slipped into a rucksack or travel bag. But it can also be carried over the shoulder thanks to its removable shoulder strap, available as an option for an extra 5 euros.
Price: €45 + €5 for the optional shoulder strap.
The explorer bag : For adventurers who cycle to work, we've found the PERFECT gift! A rain-resistant backpack with reflective strips for night-time visibility and a padded pocket to protect your laptop (up to 16").
Price: €130.